I live in a rural area; the road we live on is zoned "agricultural." There are a number of houses along it, but all are pretty widely-spaced apart. During the early morning when the weather is nice I like to go for walks up the road with a Rosary in hand and pray while strolling. I say "up the road" as there is a rise in the grade to crest the top (the road climbs over a hill). Soon after starting out from the end of our driveway there is a pleasant pastoral vista of an empty field "up the road" backed by a long row of evergreens and other trees. (For some crazy reason, I get an almost irresistible urge to grab a copy of Grit magazine and start reading.)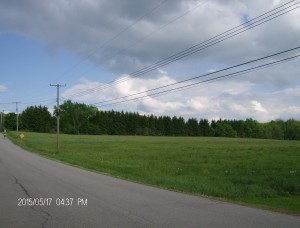 "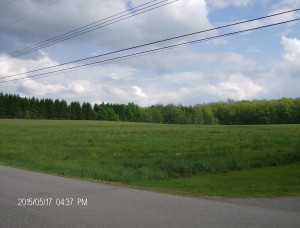 The other day when I was driving home from somewhere I saw to my dismay a sign posted along the roadside by this vacant field, "SOLD: nameofhousingdeveloper and phonenumber."
Rats. Someone is going to build a house (or houses?) there.
While I don't begrudge or hold a resentment against anyone from wanting to build a home along a nice, quiet, rural street, I couldn't help but feel that "I wish they picked somewhere else!"
I stood there with Rosary in hand pondering the scene in my pajamas. Yes, I go for walks along the street in the morning still dressed in my jam-jams. As I said, it's a rural street, hardly anyone else is around. So there I am, Rosary in my right hand, slippers on feet, floppy gray socks, plaid pajama bottoms and baseball-sleeved shirt with coffee stains on front, and faded thin bathrobe wafting a little in the breeze, the rare vehicle taking wide berths around me (despite my being along the shoulder of the roadside-there are no sidewalks, either.)
Where was I? Oh, yes, pondering the scene. So I'm staring vacantly across the road at the sweet empty field of various grasses and weedy flowers and I'm trying to get all spiritual about it as I want to write a blog post about something, anything. And something did develop in my consciousness.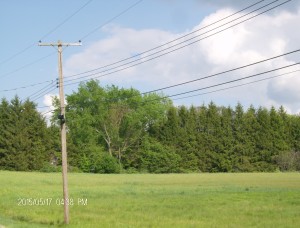 Someone's going to build a house there. Maybe more than one. That land has been there for like, millions of years and probably no one has ever lived there before, (population density being on the profoundly low side prior to European colonization of North America). Given the perpetually uncertain future, who knows how long the presumed housing will last and if anyone will replace it centuries hence? So, for uncounted eons no one's ever lived on that spot until a year or so from now.
We are not here, then we are here, then we are not here, again. The land remains. No wonder some misguided people worship the created instead of the Creator. And it is a wonder that while in the "we are here" phase, some other people, also misguided, confuse "ownership" with a moral absolute to do whatever they wish with the land they own. I am by no means denigrating the private ownership of land; on the contrary, that concept is the bulwark of freedom and autonomy. But we should be cognizant that the things we "own" are far more ancient than we are, and others will come after us and may wish to enjoy the land, too.
We "own" the land but should be mindful that it is more like "held in trust" for future people. What does that have to do with someone possibly building a house on that lot? Probably nothing, really. People come and people go, their dwellings, too. The land remains. And my brain takes off and arrives at conclusions unknown from the starting ponder.
Although my walk was this morning, it didn't occur to me to take a camera, hence the late afternoon photos.