I saw a beautiful painting in an article yesterday while perusing the news online. "The Disciples Peter and John Running to the Sepulchre on the Morning of the Resurrection" by Swiss painter Eugène Burnand, is an image that draws you into it. You are just THERE.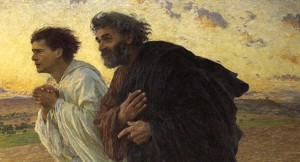 Source is right here:
The Greatest Easter Painting Ever Made.
In my opinion, John looks like Roddy McDowell and Peter kinda looks like James Farentino, who played him in the epic TV miniseries, "Jesus of Nazareth."